The All New 2020 Mercedes-Benz GLC

Mercedes-Benz Durham is proud to announce the arrival of the 2020 Mercedes-Benz GLC!
The 2020 Mercedes-Benz GLC is a fantastic vehicle both inside and out. With jaw dropping details, many safety features and a powerful engine we are confident that it is a vehicle that you and your passengers will love for years to come.  Below you will find information regarding the many different features.
Features
The 2020 Mercedes-Benz GLC is a vehicle that will get you noticed.  With standard features such as the  LED headlamps and tail lamps, and 19″ wheels. You can upgrade to an available Alcantra leather and natural wood accents as well!
Interior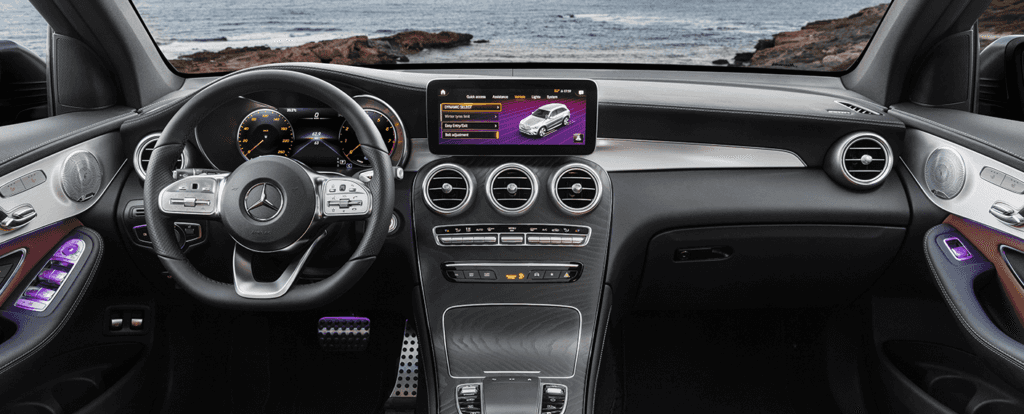 One of the most notable changes in the interior, is the infotainment screen. With a 12.3″ Digital cluster and 10.25″ touch screen, everything you need still allows you to be heads up while driving. Android Auto and Apple Car Play are optional features for smartphone integration. The Mercedes-Benz GLC has all the latest interactive technology with the Mercedes-Benz User Experience multimedia system (MBUX). This system has been designed to learn your driving preferences, and then anticipates your needs before you even ask. The MBUX technology uses Intelligent Voice Control along with Augmented Reality in order to provide you with the smoothest and seamless navigation. Everything is in distance for you, making sure the technology is efficient for the driver. All this connects with the MB Me app which allows you to monitor your vehicle even when outside the vehicle. You can start your vehicle, unlock your doors, and you can also track where your vehicle is at all times. Click here for information
In terms of under the hood, 2.0 liter inline 4 turbo engine will not disappoint those looking for a powerful drive. This vehicle has lower fuel consumption and is eco-friendly by reducing CO2 emissions. With 255 HP, which is an improvement from last yer, and a torque of 273 lb-ft torque, the performance of this vehicle will impress you.
Engine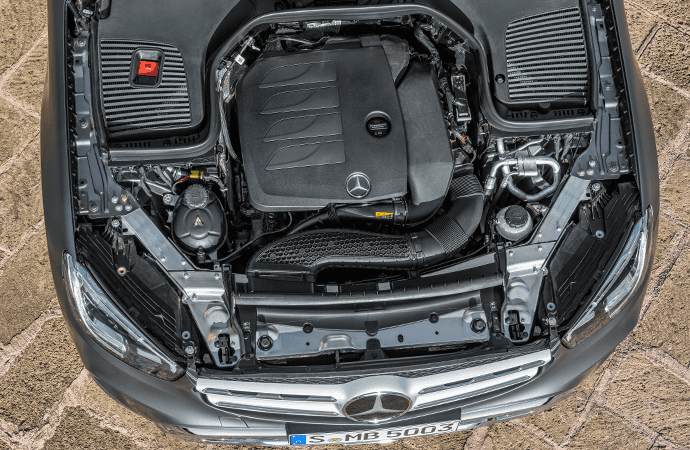 Safety Features
If you are worried about safety when driving, this vehicle will provide you with a peace of mind.  Below are a few of the safety features that come standard on the 2020 Mercedes-Benz GLC.
Active Brake Assist:
Using radar technology the vehicle can come to a complete stop, if it notices you are approaching the vehicle ahead too quickly. This technology can work up to speeds of 105 km/h.
Attention Assist:
Ideal for long trips, this feature can warn the driver when it notices fatigue within the driving behaviour. It uses over 70 indicators, which include steering habits, wheel movement, & overall vehicle speed, which help conclude whether or not the vehicle thinks you need to rest. Both audible and visual warnings will become prominent.
Crosswind Assist:
Perfect for long drives on bridges or highways this technology helps your car battle strong crosswinds that may sway you out of your lane. The cars sensors can pick up the change in wind pressure and use individual autonomous braking on each wheel to help stabilize your vehicle.
Blind spot Assist:
The vehicle will notice another car in your blind spot and notify you via an audible warning and illuminated triangle on your mirror
PRE-SAFE:
If the vehicle notices a possible rollover or collision it will automatically restrain the front seatbelts, move the seats back, close the sunroof, and windup the windows all in preparation for a possible impact
PRE-SAFE SOUND:
This technology works to protect your eardrums against the noise of a loud crash during impact. If the vehicle notices that a collision or rollover is unavoidable it will play a short interference signal, which deploys at 80 decibels. This creates a reaction for your eardrum muscles to retract and protect your inner ear.
There are so many more! To find out more click here.