1903
Paul Daimler creates initial designs for an AWD automobile.
1907
Daimler "Dernberg-Wagen" is the first AWD car for everyday use. It also features 4-wheel steering.

1931
The first-ever fully independent 4-wheel suspension is introduced with the Mercedes 170.

1951
Production begins for the Unimog, a 4WD truck for agricultural use. Still in production generations later, it's ideally suited for farming and construction in rugged terrains.

1972
Development begins for the Gelåndewagen, a cross-country SUV suitable for industrial, municipal and military use. Its comfort and safety appeals to civilians, too.

1978
Introduction of the Antilock Braking System (ABS) lays the foundation for future electronic traction control systems.
1979
Production of the Gelåndewagen, or "G-Model" begins in Graz, Austria, where it remains handcrafted, and known as the G-Class, to this day.

1985
Mercedes-Benz engineers introduce a new passenger-car AWD drive system at the Frankfurt Motor Show called 4MATIC.
1987
The W124-series (E-Class) debuts the first 4MATIC models, featuring an electronically lockable differential (ESD).

1997
The M-Class SUV is launched with the first-ever 4-wheel Electronic Traction System (4-ETS) among its many innovations.

1999
4-ETS is added to the E-Class 4MATIC sedans and wagons.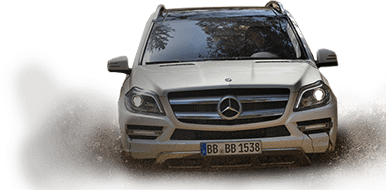 2008
A new generation of 4MATIC achieves a system weight of well under 200 lb. It appears first on the CL 550 Coupe.
2016
Today's 4MATIC is available on more than a dozen Mercedes-Benz passenger cars and SUVs in Canada and nearly 50 models around the world from cars to SUVs to vans, with gasoline, diesel and even hybrid power.